Filtering Radiation Out of Water in Kyrgyzstan's Schools



Recent news reports that fish caught off the coast of Southern California contained radiation from Japan's damaged Fukushima
nuclear plant illustrates the great distances that some toxic substances can travel.

If radioactive particles (albeit small doses not enough to cause health concerns) can journey some 6,000 miles across the ocean, imagine what the town of Mailuu-Suu is like? When local children turn on the tap in their schools, they get water highly contaminated with radiation.

That is because Mailuu-Suu, in Kyrgyzstan, is located downstream from an old uranium mine with piles of toxic radioactive waste left exposed to the elements. Here, the potent pollutant only needs to travel a few miles to reach the town. Mailuu-Suu was on Blacksmith's first-ever list of world's worst polluted places.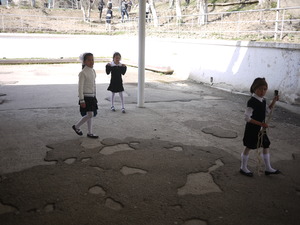 For decades, piles of radioactive waste in Mailuu-Suu have been slowly leaching into the ground, contaminating the land and water, and sickening its 20,000 residents.
Moreover, with each earthquake or heavy rain, there is a danger that a catastrophic landslide will block the river next to the dumpsites, cause a flood, and spread radiation throughout large parts of Kygryzstan, Tajikistan and Uzbekistan. Data collected over 17 years show a clear correlation between cancer and congenital diseases with the level of life-threatening pollution in the town.

While the World Bank works on a long-term plan to protect the dumpsites from flooding, Blacksmith is reducing the risks to the most vulnerable residents by placing water filters in the town's hospital and schools. The cartridge in each filter is designed to remove toxins for three years. However in Mailuu-Suu, the extraordinary level of contamination renders the cartridges useless in just nine months.

This year, Blacksmith is returning to install filters in three additional schools and replace cartridges in older filters. Since 2008 when the program began, levels of radioactive elements in the water have decreased by between 48% and 65% in the hospital and schools where filters were installed.
---
India: Small Project, Big Potential
Dr. Padma Vankar of the Indian Institute of Technology in Kanpur has spent the past decade looking for ways to stop the poisoning of some 30 villages caused by the dumping of untreated wastewater from over 350 small tanneries surrounding Kanpur. By early next year, Blacksmith hopes to help Dr. Vankar teach villagers how to build a simple water filter she devised that can provide clean water for as little as $2 a family.
Dr. Vankar's project came to Blacksmith's attention following an open call looking for small pollution remediation projects in India that can be tackled quickly with just a modest amount of money. The project requires only $30,000 to begin, and another $60,000 to complete it over two years. Blacksmith is currently working to assemble the funding.
"Even as we work at the national and state level in India, we want to make sure that we are keeping our feet on the ground. So searching for small projects is a way for us to see what kinds of pollution problems are out there that the local experts are working on," said Sarita Gupta, Blacksmith's program manager in India. "This is also a way for us to demonstrate that pollution cleanup can be effective and low-cost. A small example of success can go a long way in persuading others to join in."
With India being the third largest producer of leather in the world, and Kanpur as its biggest hub, this small project is ideal as it has the potential to expand.
On its own, the chromate salts used in leather production is non-toxic. However, once mixed with water, it becomes chromium-6, the same highly toxic and carcinogenic substance made famous by Erin Brockovich.
Over 15,000 residents in the 30 villages are affected but Dr. Vankar tells us that many do not know they are being poisoned. Few make the connection between the health issues they suffer and the tanneries.
Getting villagers to build and use Dr. Vankar's water filters is just the first step. The plan includes working with tannery owners to recover chromium from the untreated wastewater to show them the economic benefits of proper treatment. Blacksmith will also work with local agricultural experts on the use of chromium-resistant crops and other plants that can extract chromium from the ground.
The longer term goal of the project is to eventually stop pollution at its source by bringing together residents, local and state government, and tannery owners to make sure existing anti-pollution rules are followed for the benefit of all.
---
Blacksmith's Toxic Sites Identification Program Gets Nod from Peers
Blacksmith's global Toxic Sites Identification Program (TSIP) was given an important nod in a peer reviewed paper published in
Environmental Monitoring and Assessment
, a leading international scholarly journal devoted to progress in the field.
"We are very excited to have this paper accepted into such a reputable journal. We hope that the description of our ongoing assessment work can be useful to other experts in the field," says Bret Ericson, program director of the TSIP.
To date, Blacksmith has identified over 2,095 contaminated sites in 47 countries under the TSIP, and has visited and assessed about 1,400 of those sites.
Written by a team of Blacksmith experts in pollution, the paper explains the approach used in the TSIP, and presents the results of work documenting global chemical exposures due to hazardous waste, identifying sites of concern, quantifying pathways, populations and severity of exposure.
Read a summary of the paper
Approaches to systematic assessment of environmental exposures posed at hazardous waste sites in the developing world: the Toxic Sites Identification Program
or purchase a
pdf
.
---
Announcing Grants For Small Research Projects
Blacksmith is accepting applications until the end of the year for grants for small research projects. All research has to be completed by February 28, 2013 to qualify.

"We want to encourage and increase the body of knowledge about the scope and effects of toxic pollution on health in poor countries. If more studies are completed and shared, there will be more resources and data available to experts and organizations working in the field," explained Blacksmith president Richard Fuller.

Click here for grant application guidelines.

---
Blacksmith Convenes Meeting of World Leaders and Experts on Pollution
T
his July, Blacksmith is returning to the Rockefeller Foundation's Bellagio Center in Italy to convene a third meeting of world leaders and pollution experts. The goal - to create a global alliance to deal with legacy pollution.
Previous meetings in 2007 and 2012
were instrumental in bringing the issue of pollution to the world stage. Read more about our work with the
Bellagio Center, which has incubated some of the most innovative global ideas, in
The Pollution Blog
.