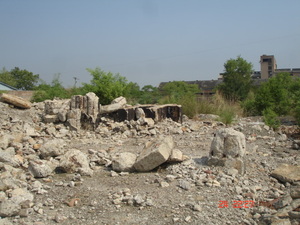 20 years ago, a ban was placed on a range of highly toxic pesticides in Pakistan. While they cannot be bought, sold or used, the vast amount that remains in the country continues to pose a risk. Blacksmith has been assessing and identifying polluted hotpots in Pakistan since 2009 and the pesticide problem has emerged as one of the country's biggest concerns -- there are 935 pesticide storage sites littered across Pakistan, where the banned toxins have been kept for the past two decades, and many are in poor condition.
Pesticides in old and disintegrating plastic and steel drums have started to leak and contaminate the surrounding ground and water at many storage sites. The problem is especially worrisome along the border, where vast amounts of Afghan refugees have crossed over to take shelter.
This summer, Blacksmith will take the first step towards solving this problem. Working with Pakistan's Environmental Protection Agency and Sustainable Development Policy Institute, Blacksmith is organizing a National Toxic Action Plan workshop that will gather top-level government officials together to prioritize sites for cleanup and identify sources of funding.
"We've laid the groundwork with previous regional workshops that drew representatives from almost every province," said Bret Ericson, the program director for Blacksmith's Global Toxic Site Identification Program. "So we know there is a real commitment and desire to solve the problem. Now by getting everyone together on a national level, we can make this happen."
---
Thanks to nationally syndicated columnist
Georgie Anne Geyer
for writing about our work. We certainly do not see ourselves as heroes but Ms. Geyer's support means a lot to us. By raising awareness, she is helping us widen our reach to clean up more of the world's worst polluted places. (
download pdf
of article)
---
Blacksmith in Armenia, Peru, Mexico and Uruguay
As part of Blacksmith's Global Toxic Site Identification Program, workhops were recently conducted in four countries to familiarize local investigators, government officials and other stakeholders with the site assessment protocols Blacksmith uses and to provide opportunities to share ideas.
In Armenia, the primary pollution issues stem from metals mining, obsolete pesticides, and the illegal burning or dumping of hazardous waste in municipal landfills. Workshop participants conducted test assessments at a dump and also conducted sampling at a restaurant near the site.
In Peru, workshop participants visited a community where high levels of lead have been found in children mainly due to illegal battery recycling activities. Government officials shared with Blacksmith their National Environmental Action Plan, which includes setting a strategy to target legacy pollution.
In Uruguay, workshop participants visited a settlement in Montevideo located close to a legacy industrial waste dumpsite, where there were electrical wire burning activities being carried out illegally as well. Government officials were interested in Blacksmith's help on remediating contaminated sites.
In Mexico, workshop participants visited a chromium polluted site, which is currently being cleaned up. Mexico government officials have been very supportive of Blacksmith activities in the country.
---
Blacksmith Addresses Leather Industry
In February, a leather industry group criticized Blacksmith's listing of
tannery operations
at #5 in the
2011 report on the world's worst toxic pollution problems
, calling the report's conclusions "sensationalist." Blacksmith
responded
and this opened the door to a deeper coversation with the industry. Working with all parties is crucial to securing change.
Read Blacksmith's open letter in Leather magazine international.
---
The iPad and 6 Million Tons of E-Waste
Jack Caravanos, Blacksmith expert and Hunter College professor, was just back in Ghana, where he was trying to introduce the use of a simple "machine" that would allow e-waste recyclers to extract copper from wires without burning them and releasing toxic fumes. (Watch a
Ghanaian news report
about the project.)
The burning of e-waste has blackened and poisoned the landscape of Ghana's Agbogbloshie market, which locals call
Sodom and Gomorrah
.
Time magazine
reporter Bryant Walsh pointed to Jack's post about the notorious e-wasteland in
The Pollution Blog
when he wrote about the latest iPad. As new devices replace old ones at an almost alarming pace, much of the six million tons of e-waste generated eventually makes its way to Agbogbloshie.
Jack's effort to stop the burning of e-waste will not solve the pollution problem, but it will make life for those working and living in the market much less dangerous.
---

Blacksmith Gathers Support in Hong Kong

Before a packed room at Hong Kong's China Club in February, Blacksmith President Richard Fuller spoke about how Blacksmith can leverage small amount of dollars into effective national campaigns to carry out pollution cleanup projects in Asia. Mr Fuller was in Hong Kong to raise awareness and gather support for Blacksmith's work in the region.

Fuller explained to the crowd that Blacksmith deals with the problem of widespread toxic pollution from toxins, including heavy metals, as a result of industry and mining, in a similar way across Asia.

The first step is to identify hotspots. Under Blacksmith's Global Toxic Site Identification Program, 600 toxic hotspots have already been identified across Asia. Then, Blacksmith's strategy is to implement small pilot projects that demonstrate to local and national authorities the technical requirements needed to clean up a site.

"In China we implement pilot projects because the government has plenty of resources and are perfectly capable of implementing large scale projects," Richard said. "We help with technical expertise needed to scale up solutions."

Blacksmith has completed eight pilots in China to date, all in close coordination with Chinese authorities, and is in the process of piloting two more, he said.

One of the current pilots is an area contaminated with cadmium, arsenic and copper in Jiangxi Province. Blacksmith is also piloting a cleanup project in ShuiDuiQuan to demonstrate the technology required, which can then be replicated in other affected villages, Richard said.

"This is where we can implement a project for just $30,000 or $40,000, and then use it to leverage several millions of dollars in national funds to do more work," he told the audience. "Once we show what is needed, solutions quickly follow."

The pilot programs are determined with the assistance of Blacksmith's China Technical Advisory board, which selects projects requiring the most assistance. The 14-member board of professionals from academic and policy institutions in China, the U.S., and Europe, is supported by the China Academy of Sciences, Chinese Research Academy of Environmental Sciences, China Center for Disease Control and Prevention, and China Research Center of Public Policy, a think tank of the National Development and Reform Commission.

For pilot projects, Blacksmith brings in a seasoned professional who has overseen similar cleanup projects elsewhere in the world to work with the partner group at the pilot site, teaching them the technical expertise required to clean up the site, and then manage and maintain it going forward.

They are essentially "transferring their own brains to the local experts," giving them the tools to replicate the work at other locations, Richard said. A very small staff in Beijing supports Blacksmith's China efforts, he said, adding, "And this is what works."

The event was introduced by John Pinkel, managing director at Indus Capital Partners, who played a key role in organizing the event. Karti Sandilya, a Blacksmith advisor and former U.S. Resident Director of the Asian Development Bank, was also present.
---